In the list of good intentions for the upcoming year is to not stop cycling. To start before, perhaps when the weather is still chilly. To practice even if it rains, if it's foggy, if been working till late. Even on weekends the alarm clock early in the morning. And it's pointless to question ourself why we are doing it: we know the answer very well. We do for ourselves.
In the list of bad intentions for the upcoming year, however, there is to struggle even more. To exaggerate in terms of kilometres, to cycle the wrong way, to argue about a not seen deviation, to argue for another Sunday spent on the bike instead of staying at home, relax, do something more useful. God damn how we are.
There is something that binds together all our intentions for 2017 and all the years to come: the irrepressible desire of cycling. The only reason why it is worthwhile to try to disprove or find out what we can do: pedaling. With no borders. On uphill roads, muddy, unpaved, along wet meadows or skies bathed in sun. Downhill to freeze the wind, sniffing the smell of freshly cut wood, stroking the grass next to the railroad, going through the borders, sniffling because of the chill, undressing because of the sun in the valley, hearing the noise of the cars on the highway as a distant memory, stamping wet cards marked by a vanishing ink, eating risotto as there was no tomorrow, writing on two wheels the meaning of Europe. Becoming real randonneurs.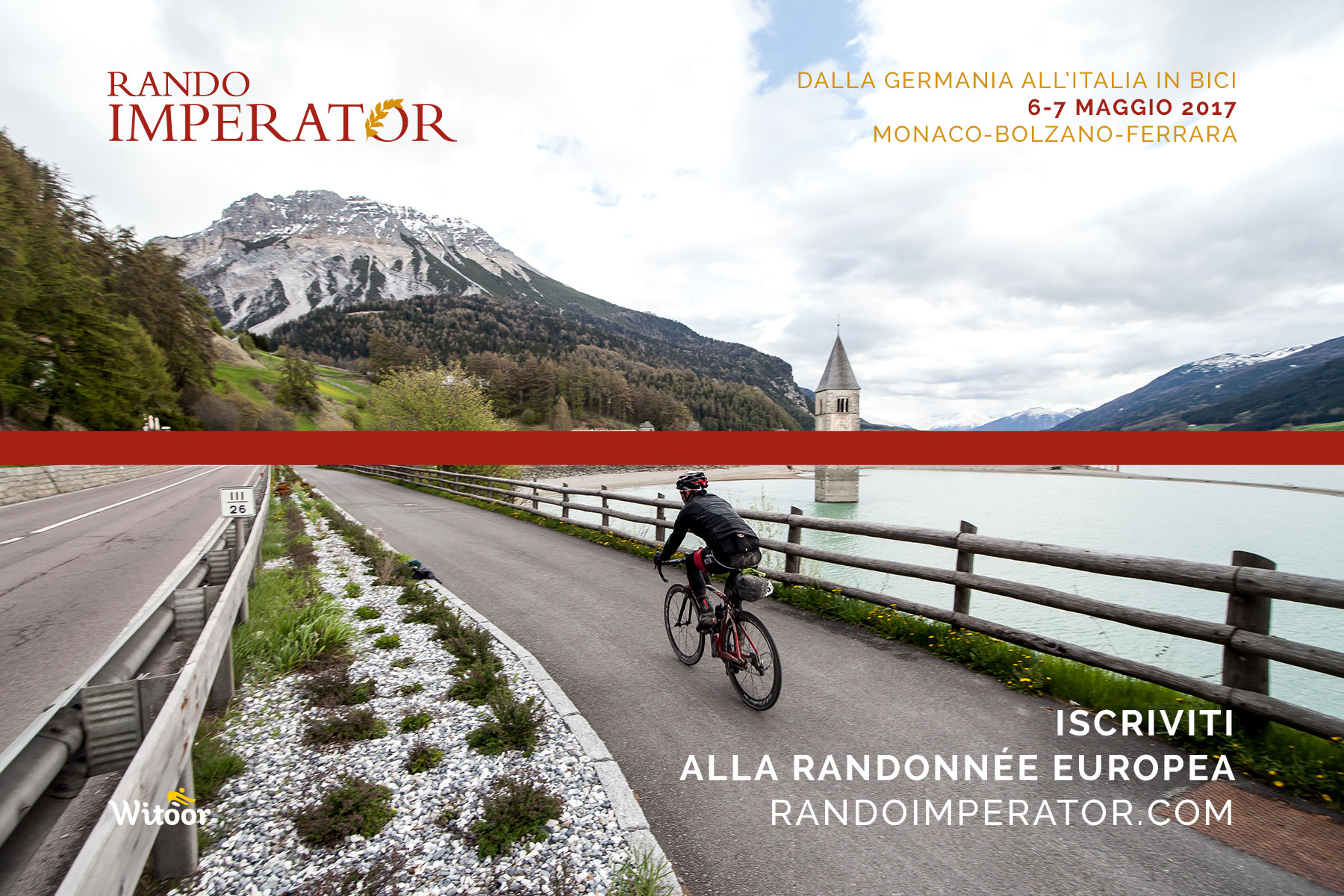 Before going on vacation (blessed who will go, by the way), there is only one thing to do missing: the subscription. Registration is now open to the three Audax Italia brevets: 600km Munich-Ferrara, 300km Munich-Bozen, 300km Bozen-Ferrara. A bike adventure along the ancient Via Claudia Augusta will take you from Bavaria, across the Austrian Alps, to the South Tirol, from the Lake of Resia down to Bozen, once again the junction for the Rando Imperator. And then the Adige Valley, the Garda Lake, the Mincio and Mantua, up to the Po River and the city of Ferrara, at the end the hugs in Piazza Castello. All the informations about the location and details about special offers for hotels and transfer from Ferrara to Bozen and Munich (and vice versa), can be found under our section on randonnée.
The way to hold together good and bad intentions is to cycle from Germany to Italy, with this European randonnée: here you go again the Rando Imperator, the third edition, even more international and even more felt. In case you'll ride it, you know who to blame: simply yourself.
Last year the Rando Imperator turned out to be more and less like this: